By:  Richard Caro   |  Posted: November 10, 2018   |  Updated: May 15, 2023
For years we have been hearing older adults complain about how ugly and stigmatizing medical alerts are. As one lady told us: "My medical alert button makes me look like I escaped from the Intensive Care Unit. So I hardly ever wear it".

Could these products change this dynamic?
In 2018 a handful of products came to market that look like smart watches, and in some cases have some or all of the functionality of stylish smartwatches — but also work as medical alert devices. We wanted to see how well they worked, and set out to test them. In particular, we hoped they might seem more palatable for daily wear than conventional medical alerts.
In 2021 we updated this analysis to include a number of new medical alert watches that came to market since we first did this evaluation.
Here are the results of our hands-on, comparative evaluation.
Summary and Key Takeaways
We did comparative evaluations (including extensive hands-on testing) of eight different products, each representing a somewhat different vision of what a "smartwatch as medical alert" should be.
While most worked quite well as medical alerts, none was perfect. And in terms of smartwatch functionality, they ranged from "every smartwatch feature you could imagine" (the Apple Watch) to "rather minimal smartwatch functionality".
Our evaluation made it clear that these products are quite different from each other, with fairly profound differences. We think these differences are best thought of as feature sets that make each one suitable for a specific persona. So while there is no "best" product in this group, there is very definitely a "best product for a specific person".
In the Recommendations section, we explain which types of people are best suited for each product, and lay out how we would choose which of these might be right for you, or for a specific person for whom you might be shopping. Links to our detailed reviews of each product are also in the panels attached to the side and bottom of this page, as well as in the section "The Candidates".
Finally, while we think many people will like these products, they are not for everyone. For some specific personas, we think people would be best served by sticking with a more conventional type of medical alert. In the Recommendations section, we also describe the type of person who might better stick with a conventional medical alert.
Table of Contents
Why a Smart Watch as Medical Alert?
There are several reasons why we think this category of "smartwatch as medical alert" is especially interesting.
First, as the quote above suggests, many older adults dislike wearing a medical alert because they are bulky, ugly, and stigmatizing. As a result, many who would benefit from wearing one, do not. An often quoted "factoid" is that only 20% of owners of medical alerts actually wear them regularly. We can't verify that exact statistic, but in our explorer discussions it is clear that a large fraction of our explorers dislike wearing their medical alert devices, or simply choose not to have one.
One potential benefit of an elegant smartwatch, that does other things people really want as well as being a medical alert, is that people might wear the product more frequently than a stand-alone medical device.
Second, there is increasing competition for "space on the body" from various products. A medical alert is just one of these.
For example, the last few years has seen mainstream consumer adoption of fitness trackers (like the Fitbit). Like people of other age groups, many older adults are intrigued by the idea that a fitness tracker might help motivate better exercise habits. And smartwatches attract people's attention for other reasons too. They can monitor a variety of health-related parameters like heart rate and EKG. And they have a plethora of Apps that can be useful for some. And, it would be wrong to overlook the shear tempting-ness of "the latest, must-have, consumer gadget".
And then there is the "killer app", that most older adults already have on their wrist — the ability to tell the time.
Merging multiple products into one "swiss army knife-type" product, eliminates the need to buckle on multiple devices each morning. 
Desired Features
So what exactly should this product do? Here is our list of desired features for a "smartwatch as medical alert".
tells the time well;
functions flawlessly as a medical alert;
looks attractive, and in particular looks like something older adults would be proud to wear rather than something that screams "I am old and frail";
easy to use;
functions alone, without the need to carry along a phone or other "base station".
In addition, we think different people will be attracted by various additional potential features. So availability of the sort of features found in today's leading smartwatches is good, so long as the product maintains ease of use.
Some features we think many (not all) will find useful include:
fitness tracking features (e.g. step tracking);
weather;
messaging;
location capability (others can know where you are if you want them to);
various "watch-type" features like timers, alarms, reminders;
various smartphone-type features like ability to summon Uber/Lyft/taxis; and ability to communicate with others (e.g. phone calls, Facetime etc).
And, of course, price matters.
The Candidates
[The links below go to our detailed reviews, where you can also find links to the vendor's websites].
For 2021, we compared and evaluated the following products:
In our original evaluation in 2018, we also included two products that are no longer available:
The MobileHelp Smart is no longer available, and the Freedom Guardian is being replaced by Freedom Guardian 2.0 which is not yet available.
As you can see in the pictures below, there are seven different pieces of hardware. But we think of this as eight separate products, because the Apple Watch alone, and the Apple Watch plus the app called FallCall Lite, have important differences in functionality.
In truth, the Apple Watch (without medical alert app) is a bit different than the others, and not directly comparable. But it is a strong emerging competitor and important as a benchmark. Most of the other products are directly comparable to each other, and to other widely marketed medical alerts.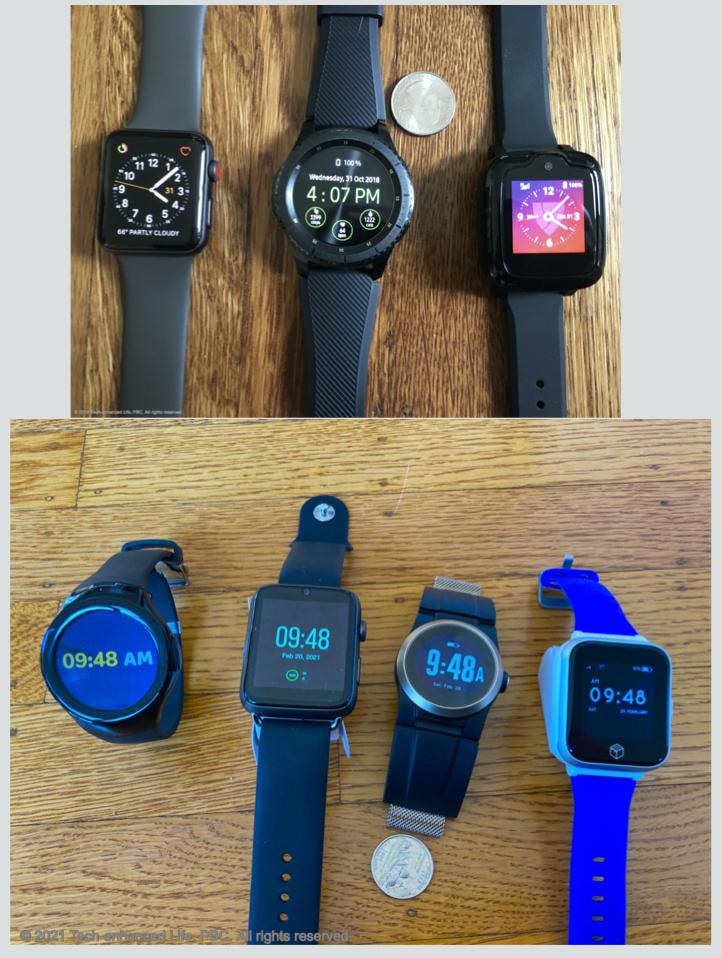 Caption: Top L-R: Apple Watch, MobileHelp Smart, Freedom Guardian.
Bottom L-R: SOS Smartwatch (Bay Alarm), WellBe Medical Alert Plus (HandsFree Health), Kanega watch (Unaliwear), Phoenix watch (iGPS).
NOTE: several of the products have a choice of watch face and so may look different on vendor's websites. 
First Impressions (before Testing)
All of the products in this evaluation have done a great job of avoiding the "old person's product" look that puts people off conventional medical alerts. Instead, they all look like a piece of consumer electronics in the form of a watch.
The next "hurdle" is making the transition from "much better than a conventional medical alert" to "Wow. I want one of those".
The Apple Watch has already made that transition in many people's minds. And when we showed these products to the Longevity Explorers, quite a significant proportion felt that some of these products had also made it past the threshold of "I want that". On the other hand, quite a few of our Longevity Explorers — especially the women — felt that all of these products were undesirably large and clunky. So, there is room for more progress in terms of aesthetic desirability.
Apple Watch
Since the Apple Watch 4, Apple has included a fall detection algorithm. And since the prior Apple Watch 3, you can hold down the button on the side of the Apple Watch and have the product dial 911 in case of emergency. This is an example where the smartwatch vendor itself has "almost" turned this into a medical alert. The only aspect that is missing is the ability to connect it to a monitoring service (see more discussion below).
FallCall Lite App (on the Apple Watch)
This product looks exactly like an Apple Watch, because that is what it is. For this test, we simply downloaded the FallCall Lite App onto my existing Apple Watch 3. You do NOT need to buy any special hardware for this. Just the Apple Watch. So, think of this as "leading smartwatch", with medical alert added on as an App. It has every smartwatch capability you can imagine. Along with all that functionality comes a bit of complexity. Although for myself, the complexity is totally worth the extra functionality.
Kanega Watch
This is an unusual product. It has a unique approach to charging, discussed further below, and has a voice activation feature that is also unusual in the world of medical alerts. It does not include smartwatch features other than "the time (and date)" and medication reminders. It DOES include fall detection capability. Among the Longevity Explorers, the appearance of the product had some enthusiasts, but also some who disliked its appearance.
SOS Smartwatch
This is an elegant "smartwatch", although time and steps are the primary smartwatch features. Bay Alarm Medical is a highly regarded medical alert vendor.
WellBe Medical Alert Plus
This looks extremely like a somewhat larger Apple Watch, which was seen by most of the explorers as a plus. It is part of a broader suite of products that includes a rather intriguing smart speaker with built-in "virtual health assistant", although that is optional. It has several smartwatch features.
The Phoenix Watch
This product differs quite a bit from the others in this comparison. It does not automatically come with a professional monitoring service, although you can add that according to the vendor, iGPS.
MobileHelp Smart
This product is based on the Samsung Gear S3 Frontier Smartwatch, modified to add the medical alert functionality in collaboration with MobileHelp, one of the leaders in the medical alert industry. Because of this heritage we expected it would work well as a smartwatch, and also as a medical alert. Its appearance is clearly "smartwatch". It has only a limited set of smartwatch functions, but they are probably the most relevant ones for an older adult demographic (step counting, heart rate, weather, time, and some other "health" functionality).
Freedom Guardian
This product appears to come more from a medical alert heritage than from a smartwatch heritage. It looks somewhat more modern and elegant than a normal medical alert, and is designed to be worn on the wrist. It includes some smartwatch capabilities too (telling the time, showing the weather), but lacks step counting or heart rate.
It comes from Medical Guardian which we consider one of the leaders in the medical alert industry. Typically, Medical Guardian rebrands products made by other companies, rather than developing their own-brand products. We are not sure of the exact provenance of this product.
What We Did
For this piece of research we started with the internet, looking for products that fit our ideal criteria for a smartwatch as medical alert. The products we tested for this research were the only ones we found that met our criteria for being in the category of "smartwatch as medical alert", while also being available for purchase in the USA (we excluded products that are "not yet available", or in "beta test").
For our first round of evaluation in 2018, we acquired them all, in each case purchasing them and being on-boarded as a regular customer. The companies did not know we were doing this evaluation. When we updated the research in 2021, we asked some of the companies to loan us a product for evaluation. The companies did not fund the research or have any inputs into what we wrote.
In both our original evaluation, and for our 2021 update, we spent several weeks using the products. On a typical day we would travel to some place in the San Francisco Bay Area where we thought we might need to use a product like this (i.e. places we typically go; places that might represent connection challenges; noisy places; etc). In each place we would sit down, and then sequentially test each product. A "test" comprised pressing the emergency button, waiting until the responder came on the line, explaining "this is a test", and asking the responder where their system thought we were.
For these tests we limited ourselves to the "monitored" products. They have a responder whose job it is to answer calls like this, and we paid a monthly fee for that privilege, and they encourage these sort of tests.
We did NOT test the stand alone Apple Watch like this, because it calls 911 directly and we did not want to add to the volume of unnecessary calls to 911.
Important Background Material
Medical Alert Devices have a variety of different features. In prior work we have put a lot of effort into explaining exactly what all these features are, and how to decide which features matter for a specific person.
We don't try and replicate that work in this article. Instead, for anything that seems a bit confusing or unclear, we recommend you look at our section called Learning Module: About Medical Alert Systems, where you can see a basic tutorial about medical alerts as well as access other material going into a lot of depth about all the different features — and how to pick those that matter for you. 
Fundamental Differentiators
Quite independent of how these products performed as medical alerts, which we discuss below, the eight products represent somewhat different visions of what a "smartwatch as medical alert" should be.
One aspect of this is where they fit on the continuum between "state of the art smartwatch", and "conventional medical alert" — embodied primarily in their "stylishness" and number of smartwatch features.
The other aspect concerns two important features relating to how they function as a medical alert: automatic fall detection, and the question of "who is the first responder?".
In the table below you can see how the products differ with respect to these fundamentals, and below we discuss this in more detail.
First Responder
Fall Detection
Stylishness
Smartwatch features
FallCall Lite/Detect
Monitoring service

(or just family)

Yes
Excellent
State of the Art
Apple Watch
911 and family
Yes
Excellent
State of the Art
MobileHelp Smart
Monitoring service
No
Excellent but bulky
Steps etc, Heart Rate, Weather
Freedom Guardian
Monitoring service
No
Mediocre
Weather
SOS Smartwatch
Monitoring service
No
Good
Steps
Kanega Watch
Monitoring service
Yes
Good
Reminders
WellBe Medical Alert Plus
Monitoring service
No
Good
Steps, Heart Rate
Phoenix Watch
Family members and 911

Monitoring service available as option

No
Adequate
Steps, Camera
Table: Fundamental Differentiators
Who is the First Responder: Monitored vs Un-monitored
One of the most important choices one needs to make in thinking about acquiring a medical alert of any type is whether it should be "monitored" or "unmonitored".
In an "unmonitored system", when you press the button, the alert gets sent to a friend, or to the 911 dispatch center. For a "monitored system", the alert goes to a professional monitoring service that answers your call and triages it (calling 911 or your friends as deemed appropriate, or just reassuring you if that is what is needed).
If this is confusing, you can learn more about this important differentiator in our "Basic Tutorial about Medical Alerts".
Most conventional medical alert devices come with a monitored service (for a monthly fee). And most people choose a monitored service.
Most of the products we evaluated here offer a monitored service, and thus are directly comparable in function with the typical medical alert buttons you see widely advertised on the Internet and TV.
However, the Apple Watch (alone, without additional FallCall Lite App) is unmonitored. The Phoenix Watch can be either monitored or unmonitored. And while the SOS Smartwatch from Bay Alarm includes a monitoring service, you can acquire the same "smartwatch" without the monitoring service (but with the option to have it call the family instead) from its developer Theora Care (see our review of the Theora Connect product).
There are definitely some negatives about doing without the professional monitoring service. On the other hand, there is no monthly fee for the monitoring.
To further clarify:
With the Apple Watch alone, when you trigger an emergency alert, the product calls 911 directly.
With the "monitoried" products, when you trigger the emergency alert the product calls the monitoring center (and/or your designated friend, depending on which you specified when you set up the product). And then, if 911 is required, these first responders make that call on your behalf.
The question of which is preferable between monitored vs unmonitored has a range of nuances. We tried to cover them in the Learning Module: About Medical Alert Systems.
Knowing Where You Are: Monitored vs Un-monitored
One of the most critical differences between a monitored service and calling 911 is whether the responder knows exactly where you are.
For the monitored products, each automatically transmits your location to the monitoring center when an alert gets triggered. So the responder knows where you are, even if you are unable to tell them. If it is necessary to call 911, the responder does that and can tell them exactly where to go.
In contrast, for an unmonitored system (eg the Apple Watch without the FallCall Lite App installed), an alert triggers a call directly to 911.
The issue here is that not all 911 centers are configured to receive notification from these wireless smartwatch devices as to where you are.
And thus in some / many situations, that call to 911 does NOT include information about exactly where you are. If you can talk to the 911 responder and know where you are, this is not a big deal at all. But if you are unconscious or confused it can be a very big deal.
This is actually changing rapidly due to some changes in the 911 industry driven by Apple and Google (1, 2). It may be that this issue is soon a thing of the past. However, when we started this research (Q4 2018), if you use an unmonitored system and it calls 911, and you can't talk to the responder and tell them where you are, their ability to pinpoint your location will in some situations be far less accurate than if you are using a monitored service.
Whether this matters or not boils down largely to what exact situation you are worried about. If you worry about a stroke or heart attack, and feel time will be of the essence and don't really expect to be able to tell people where you are, this might matter a lot. If the main reason for having a medical alert is to avoid the situation where you fall, can't get up, and are stuck on the floor for hours before someone finds you, this might seem like a much less critical issue — as in that case you would likely be able to tell the responder where you are.
Fall Detection Algorithm
Many modern medical alerts come with a "fall detection algorithm". What this means is that with such a product, if you fall, the device recognizes that you have fallen and will automatically trigger an alert without you needing to do anything. Of course, if for some reason you did not want that to happen, or the automatic trigger did not work, you can still trigger or cancel the alert manually.
In general, this is a popular and valuable feature. Some people are concerned about the potential for false alerts. However in general we recommend this feature, so long as it is well implemented.
The challenge is that so far  none of the traditional medical alert providers has been able to develop a reliable fall detection algorithm that can work with a product that is worn on the wrist. All existing "conventional" medical alerts we know of that have a robust fall detection algorithm require you to wear the device around the neck as a pendant.
Presumably for this reason, the majority of these products do NOT have a fall detection algorithm feature built in to them. They rely on you to press the button to call for help.
Apple Watch: A Fall Detection Algorithm that Works on the Wrist
This is where the Apple Watch really stands out.
To our knowledge, the Apple Watch 4 (running WatchOS5) was the first product to include a fall detection algorithm for a product to be worn on the wrist (3). This was a big milestone.
If only the Apple Watch also allowed you to send alerts to a professional monitoring service (rather than just to 911), this product would actually check all our boxes for the ideal smartwatch as medical alert.
For this article we have NOT set out to evaluate the perfection of the Apple Watch fall detection algorithm. Lots of journalists and reviewers have written about the product and this feature. We are not really sure how robust Apple's algorithm is, and it is a hard thing to evaluate. However, Apple being Apple, we are inclined to think it is likely to be pretty good.
Update 2021: More Fall Detection Algorithms
The FallCall Lite App, operating in conjunction with the Apple Watch, did not come with a fall detection algorithm when we first tested it in 2018. In early 2021, the FallCall Lite was upgraded to include fall detection.
And the Kanega Watch also comes with a fall detection algorithm.
We have not attempted to evaluate how "perfect" these fall detection algorithms are.
Detailed Comparisons
Ease of Use
We think there are two types of "ease of use" that are relevant. The first relates to things like button size and visibility of the display. The second relates to whether it is "confusing", especially if it allows numerous features and options.
In terms of how easy it is to "call for help", here are the key points:
most of these products (exceptions below) have a "button" on the side that you press when you want the device to "call for help". The prominence of the button varies, and some have two buttons, so you need to remember which one calls for help. But we think calling for help on any of these devices could be "learned" fairly easily, especially if regular testing is encouraged.
The Phoenix Watch, and the FallCall Lite app (on the Apple watch) are exceptions in that they do NOT have a button on the side that you press to call for help. For these two products you need to navigate a few screens on the app on the watch, after which you reach a large SOS "virtual button" on the touchscreen.
In terms of how easy it is to use the smartwatch features, we thought most of the products were "fairly easy to use" if you are familiar with using a smartwatch, but a bit confusing if you are new to a smartwatch. The details of how each product has implemented the user interface vary, and if this is the key issue for you, take a look at the individual reviews for more information.
For people with arthritis or fine motor issues, ease of doing up the clasp can be important. For those people, the Kanega Watch and the SOS Smartwatch come with an especially easy-to-use folding clasp (pictures in the individual reviews).
Below are some additional specific observations relating to ease of use.
The SOS Smartwatch and the WellBe Medical Alert Plus both have well designed, modern, smartwatch interfaces with touchscreens that require swiping to operate smartwatch features. They require only a button press on the side to call for help, although you can also call for help via the touchscreen if you prefer.
The Apple Watch (without the FallCall Lite App) is also pretty easy to use. Calling for help involves pressing a button on the side of the watch (similar to most of the other products). The button is a bit smaller than the Freedom Guardian one, and the smartwatch itself is more confusing than the other products, due to all the extra functionality inside. But this "call for help" aspect is actually extremely simple.
The Kanega Watch is quite different to most of the competitors, because it has quite limited smartwatch capability, and includes a voice activated interface. Both of these design choices help make it "easy to use". It does NOT have a touchscreen and relies on voice or button presses to navigate. It has an unusual approach to battery management, which will make the product "easier to use" in some life situations, but "less easy" in other life situations (see battery management below).
The FallCall Lite App (on the Apple Watch) is somewhat less easy to use than the competitors. There are several reasons for that. First, because it is an App, the interface is in the App, which is one of many on the Apple Watch. It takes a bit of setting up, whereas the other products come ready to use. And instead of pressing a button on the side of the watch to call for help, you need to open the App and press a help button in the App. Overall, these things were only mildly less easy to use than the other products. But if you worry about ease of use, this one definitely is harder to use than the others.
I set up my Apple Watch so the FallCall Lite App was a "complication" on the watch face. It shows up in the image (right) as a "+" in the bottom left of the watchface. To start the process of calling for help you press that "+".
Caption: FallCall Lite/Detect: Press the "+"
In our initial evaluation in 2018 we said: "Top in terms of "ease of use" is the Freedom Guardian". It has quite limited functionality, and thus there are not many options to choose from. And it has the largest most obvious red "button" to press in case of emergency. As discussed below, it also has the loudest audio, which means that when a responder calls you to check you are OK (after you press the "help" button), you can hear them more easily than with the other products. However this product is discontinued, to be replaced by the Freedom Guardian 2.0 which we have not evaluated.
We were disappointed with the ease-of-use of the Phoenix Watch when we tested it in Feb 2021. We found the touchscreen hard to use, and the font extremely small, and the screen hard to read in bright light. On several occasions we had trouble accomplishing our goals in terms of making adjustments. This may well get improved with future software updates.
None of these are quite as easy to use as a conventional medical alert
It is important to note that none of these smartwatches are as simple to use as a conventional medical alert pendant. The conventional products are simple, single purpose devices, and typically have one large and obvious button to press and almost no other possible ways to interact.
In an emergency, so long as you are wearing the product, and so long as you "want" to trigger an alert, it is hard to go wrong.
In contrast, each of these smartwatches has multiple ways to interact with the product. And the buttons are definitely smaller and less obvious. Our explorers worry about whether in an emergency they would know what to do to summon help.
This is a valid concern. In our opinion, for many the aesthetic appeal and multi-functional capability will outweigh this ease-of-use penalty. But it is definitely a tradeoff.
Testing Encouraged with Monitored Systems
With the monitored systems, an important detail is that you are allowed and encouraged to regularly test the system. This means that you can get accustomed to what to press, and how to find the button to press, and what to expect after you call for help. We think this ability to get familiar with how to operate the alert is a big advantage, and makes it more likely that when you need it you will remember what to do.
Vision Issues
As far as being able to see the screen of the products is concerned, both the Apple Watch product and the MobileHelp Smart have crisp, high resolution screens. Both are pretty easy to see, although the whole concept of looking at something on a small watch face screen may be challenging for those with visual impairments.
The Freedom Guardian has a noticeably less crisp display, and we found the clock face a little hard to read, when it came to telling the time.
Neither the MobileHelp Smart nor the Freedom Guardian have any options in terms of how the smartwatch display looks or what appears on it. In contrast, the Apple Watch has a wide range of customizable options in terms of the appearance of the watch face, and of what extra information (complications) appears on it.
This is one of those situations where some will prefer the ability to customize, while some will prefer a simple, ready-to-go functionality. For myself, while it took some work to set it up, I like the fact I can have a watch face I like and can read easily, with only the extra information on it that I choose to have there. So for me, the Apple Watch customizability wins out.
Update 2021:
The screens on both the SOS Smartwatch and the WellBe Medical Alert Plus were crisp and bright and easy to read, with mostly decent sized font. Both products have a limited choice of watch faces to choose from.
The screen on the Kanega watch was less crisp and bright, and on occasion caused some difficulty in reading it, but was "acceptable".
We found the screen on the Phoenix watch hard to read, and the font small.
Voice Activation
Several of the products can be interacted with entirely via voice, including asking the time, or asking it to make a call. This could be very important for people with vision impairments.
The products that include this type of voice activation are:
Apple Watch
FallCall Lite / Detect;
Kanega Watch.
Interacting with the Response Center
Once you trigger an alert (call for help), you end up talking with a responder (either the responder in your monitoring center, or the 911 operator for an unmonitored service).
For most of the monitored products, you don't need to take any additional action for this to happen. Once you press the "help" button, some time passes (30-90 seconds typically) and then a voice comes out of the watch asking "Are you OK?".
In contrast, for the FallCall Lite App, there is an extra step which I feel could lead to some problems. Once you press the Help button, a similar amount of time passes and then your Apple Watch receives a phone call from the responder. You need to notice that they are calling, and then answer the phone (by pressing a button to "accept the call").
I had no trouble doing this in my tests. However, I worry that, during an emergency, I might not notice the call coming in — or not remember in time to press the "answer" button. Since the default in case of you not answering is to send help (via 911), this may not be such a big deal. But I worry about the potential for false alarms.
For the Apple Watch (without the FallCall App), pressing the button opens a phone call directly to 911. This avoids the issue of them calling you back I think (I did not want to test this as I don't like bothering 911).
Hard of Hearing?
In all these scenarios, you ideally end up talking with a responder. So the loudness of the speaker in the product is important, to be sure you can hear well.
I found no problems with any of these products in hearing, even in fairly noisy surroundings, so long as I was able to lift the smartwatch to my ear (i.e. raise my arm a bit).
But, I found the Freedom Guardian had noticeably louder speakers than the other products. And so, even when I did NOT raise my arm, I could typically hear pretty well. The rest of the products seemed similar in terms of loudness.
For me, I doubt this feature would have been sufficiently important to sway my decision in one direction. However if you are hard of hearing, this might be quite important.
If you wear a hearing aid, and have the type of hearing aid that can interface directly with an Apple watch, then you might find the two products based on the Apple Watch are vastly superior for hearing and interacting with the responder. We did not test out this aspect. But none of the other products has the capability of connecting with your hearing aid.
Stylishness
Of course, this is very subjective. Most of our Longevity Explorers thought the Apple Watch was most stylish, but many also liked the other products.
Many of the female explorers had the opinion that most of these smartwatches were "rather large".
The products that looked most like a regular consumer smartwatch were the Apple Watch, the SOS Smartwatch, and the WellBe Medical Alert Plus.
Charging
All of these products need to be regularly charged. There are some important differences.
Each comes with a simple way to charge itself. The Apple Watch and MobileHelp Smart and SOS Smartwatch have simple, small and elegant magnetic charging stations. The Freedom Guardian, WellBe, and Phoenix charging connection is a bit more basic, but adequately functional.
The Kanega Watch has a very unusual approach to charging, discussed in more details in the review. The key points are that the batteries (there are two) detach from the watch, and the product comes with backup batteries. This means you can quickly replace the "low" batteries with "charged" ones without taking off the watch. This has pluses and minuses.
All of the products took between 1-3 hours to charge fully. Once charged, they lasted between half a day and two days before needing to be recharged.
We wanted to be able to wear the products for 24 hours continuously and then recharge. The Apple Watch allowed that easily as did the Freedom Guardian and Phoenix watch. The Kanega Watch allowed that, although there were occasions where it seemed to come close to running out before 24 hours had passed. The SOS Smartwatch and the WellBe Medical Alert Plus both regularly ran out of power and shut down before the 24 hour period was reached. The MobileHelp Smart lasted for a day fairly easy in our initial tests, but subsequent testing by an explorer suggested it had battery issues if you use the activity tracker extensively.
How important these differences are depend a lot on the expected useage pattern. If you want to wear the smartwatch during the day and take it off at night, all of these should allow that just fine. If you want to wear the watch continuously even when asleep, some of the products would require a top up charge during the 24 hours.
If you absolutely "never want to take it off", even for an hour or two, then you need the Kanega watch.
Wear it in the Shower?
All of these products are at least "water resistant". The Apple Watch is far more so than the others, with swimming being encouraged. However the MobileHelp Smart is water resistant to standard IP68 (more than 1 meter for 30 minutes) and the Freedom Guardian, Kanega Watch, WellBe Medical Alert Plus, Phoenix Watch, and SOS Smartwatch are water resistant to standard IPX7 (up to 1 meter for 30 minutes).
So they all should be OK for wearing in the shower, which is important as this is where many falls happen.
Works Everywhere?
Each of these products works by connecting to the cellular network and calling for help when you press the help button. So they will work anywhere there is cell coverage.
In addition, some of the products (Apple Watch, Kanega Watch) can connect over a WiFi network if one is available in your house.
The WiFi capability can be important if there is a room in your house where there is poor cell coverage, and where you definitely care about the watch working (eg the bathroom).
Because different cellular carriers have different perfection of coverage in different places, it is important which carrier each product uses, and how good that carrier's coverage is in your neghbourhood.
Both the MobileHelp Smart and the Freedom Guardian use the ATT network.
The Kanega Watch uses Verizon. The Bay Alarm SOS Smartwatch uses T Mobile. The WellBe Medical Alert Plus uses T Mobile.
The Apple Watch will use whichever carrier you have set up with it.
Response Time
One of the things we like to measure is how promptly the responder comes on the line after we press the "help" button. We time this for all our tests, and after a few weeks of testing we look at the overall patterns of response time.
None of these products was quite as reliably speedy in response as the best conventional medical alert company (e.g. GreatCall), although the WellBe and SOS Smartwatch products came close. However, we felt they were all well within the "acceptable" range of response time.
For most of the products (exception below), a responder was usually on the line in less than a minute, although rarely in much less than 30 seconds. And in some cases it took longer than a minute (only once was it longer than 2 minutes, except in cases of "failure" (see below)).
If speed is a critical issue for you, the Kanega Watch was somewhat slower in "time to connect" than the others in this group, averaging 45-60 seconds longer to connect than for example the WellBe or SOS Smartwatch.
Location (GPS) "Perfection"
An important aspect of this class of product is that they are meant to know where you are at all times, so that if you need help but can't talk to them, they can send someone to the right place. So each time we test the system we ask for the co-ordinates of where they think we are, and then compare that with reality.
For this round of testing we did fewer measurements, and in fewer locations, than in our prior work on mobile medical alert systems (conventional medical alerts). But we did sufficient to get a feel for the comparative "perfection" of each of these products in being able to locate us.
Overall, most of the products were pretty good.
For the "monitored products" that connect to a responder, there were no calls in which the call went through but the location was drastically wrong [except for the WellBe which had a "bug" that was subsequently fixed (see below)]. However there were quite a few instances in which the location was off by a house or two, and in a handful of cases the location was off by as much as a couple of blocks.
In principle, the Apple Watch seems likely to do the best job at locating itself, as Apple incorporates a variety of locating technologies and has extensive experience at refining this feature across a huge consumer base. The Freedom Guardian includes two location technologies: GPS and Wi-Fi Positioning Systems. As best we can tell, the MobileHelp Smart relies on GPS location primarily, as do the other products we tested in 2021.
Despite these potential technological differences, we did not find one or other of the "monitored" products was consistently better or worse than the others at knowing where we were.
As we found in our prior work, the ability of these devices to locate you is "pretty good", but not "perfect".
There were two exceptions to the above:
The "WellBe Medical Alert Plus". This product developed a problem with its ability to send GPS location to the responder in the middle of our evaluation (see review for details). After discussions with the company, they decided this was due to a software bug which they appear to have now fixed. After the software was updated the product worked well in our subsequent testing, so we hope this is no longer an issue.
The Phoenix watch seemed to have consistent issues with its GPS location capability. On some occasions it was quite accurate but on others it thought the watch was still at my home, when in reality it had been a mile or so away for quite some time (tens of minutes). We suspect there are some bugs in the watch software (or in our understanding of how to use it) and by the end of our testing these had not been corrected by the company.
Failure to Summon Help
For a product like this, the second most important aspect of functionality is that it works every time you need it to work. And in this case, some of these products fell short.
However the first most important criteria is that you actually wear the product. And this is the area where these products shine, so we don't necessarily want to rule them out because they don't work 100% of the time. Nonetheless, this is a major issue.
In our initial evaluation in 2018, in total we did 15 tests (each on different days) in which we called help for each of the three "monitored" products (so 45 total "tests"). So statistics are too small to draw definitive conclusions. But in those tests, none of the products successfully summoned help every time.
The MobileHelp Smart summoned help correctly in all but one instance (14/15). The FallCall Lite seemed to have a "bug" and summoned help correctly in all but 1 instance (14/15). The Freedom Guardian worked well in every instance, except for one entire day during which the product froze and was unresponsive and thus could not be used (14/15).
In the case of the MobileHelp Smart, the time it "failed" what happened was that it correctly called the monitoring service. Then the responder did indeed come on the line. However they could not hear me when I responded. Most likely this was something in the watch's operating system causing the microphone not to work. And after rebooting the smartwatch it worked fine. However had I really needed help, this would have caused some problems.
In the case of FallCall Lite (on the Apple Watch), the problem seemed more fundamental. It seemed that on 1 occasion, after the Apple Watch and its paired iPhone were no longer in range of each other, the App failed completely to send an alert, even though the App screen indicated that it had done so. This is not an acceptable failure mode. I reported it to customer service and they told me they found a bug in their App and that they were working to fix it.
A few days later, the FallCall Lite App forced me to restart the App and relog in, and after that the App has been working flawlessly, without any signs of the above pairing issues. I am hoping this is a "fixed problem".
The Freedom Guardian worked well most of the time in terms of summoning help. But it had an entire day during which it was completely non-functional. In the early morning of that day, I noticed that the Freedom Guardian had a flashing screen, was displaying the signal that said it was calling for help, and was completely unresponsive to any pressing of buttons. I called tech support, who were not at all helpful. In the end I needed to wait until the battery went flat, after which it rebooted itself and then functioned satisfactorily again. See the detailed review for more discussion.
In our update testing in 2021 we did 10 consecutive tests of "triggering an alert" for each of the products, in different places in and around San Francisco on different days. As in previous tests, none of the products performed "perfectly". But they all performed "quite well".
The key "issues" (see individual reviews for more details) were:
The WellBe product had a "bug" that made it fail to report GPS location on several occasions but we believe this bug has now been fixed.
The Kanega Watch uses a somewhat different network than its competitors and this has positive and negative consequences. It leads to better battery life. BUT, in our tests, on 3 of 10 tests the watch had rather poor connection to the responder making a voice discussion hard or impossible (see detailed review).
The SOS Smartwatch on 1/10 tests was unable to correctly report a GPS location to the responder (likely due to being inside).
The Phoenix watch did a good job of calling the "family member". However, it did have some trouble on occasion sharing the correct "location" (see above).
Other Smartwatch "Features"
There is a very clear hierarchy here.
The Apple Watch is clearly state-of-the-art in terms of doing all the things you might hope a smartwatch can do. It does everything mentioned below and much more. After a year I am still discovering useful things it can do to make my life easier and more convenient.
The MobileHelp Smart includes the Samsung Health App, which includes step counting and calories and heart rate and other health-related smartwatch features. It also includes the weather and of course the time, but that seems to be the extent of the functionality. The good thing about this is that it greatly reduces complexity and potential confusion. And we think these are definitely the most interesting of the potential smartwatch Apps for older adults.
The Freedom Guardian has very few extra features. It tells the time, shows you the weather, and can call for help. That's about it. If you pay an extra monthly fee (over and above the monitoring fee), apparently caregivers can send you reminders and messages. We did not test this aspect of its functionality.
Of the new products we added in 2021, each has a limited set of smartwatch features compared to something like an Apple Watch. The good aspect of this is simplicity. The bad aspect is that the feature you want might not be available.
See the table above for the specific smartwatch features each product includes.
Features for Caregivers
Some of the monitored products come with a companion "App" designed for someone in your "care circle" to use.
We did not spend a lot of time evaluating this aspect of the products, but what we did is captured in the individual product reviews (links at bottom of page).
One feature worth noting is that, for some of these products, it is possible for trusted third parties to determine where the wearer of the smartwatch is at any given time. You can do this via a special "Caregiver App" in most cases, and through other Apps (eg FindmyFriend) for the AppleWatch.
This raises some privacy questions of course. But in the case of people with cognitive impairment, who might be prone to wandering and getting lost, this is a feature that would be very popular among caregivers.
The Medical Guardian Freedom Alert has a caregiver app that lets you find the person wearing the watch, as did the MobileHelp Smart. And as mentioned above, the Apple Watch has this feature.
The Kanega Watch does NOT have this ability for a caregiver to locate you. Nor does the SOS Smartwatch or WellBe Medical Alert Plus as of Feb 2021, although both vendors say they are "working on it". The Phoenix product does include this capability, but in our tests it did not seem to work well. We are hoping that is due to a software bug and will be improved in the future.
Pricing
Pricing for this sort of product varies with time, so you should not rely on this section as the last word on pricing. However here are the prices updated as of late Feb. 2021.
Upfront fee to buy "watch"

(includes activation fees)

Monthly monitoring fee

(annual option)

Cellular contract cost/month***
Approximate 2 year total cost
FallCall Lite**
$329
$15
$10
$929
Apple Watch*
$329
$0
$10
$569
MobileHelp Smart
Discontinued
Freedom Guardian
Being replaced by FG 2.0
SOS Smartwatch
$179
$25
$0
$778
Kanega Watch
$149
$60
$0
$1,588
WellBe Medical Alert Plus
$180
$35
$0
$1,020
Phoenix Watch
$145
optional extra
$15
$504 (unmonitored)
*We priced the Apple Watch Series SE with GPS + Cellular. You really need the cellular capability to have this product work without needing to take along your cellphone.
**If you already own an Apple Watch, the FallCall Lite App has no extra fee for the watch of course.
***The majority of the products include a cellular connection and you don't need to pay extra for that. The Apple Watch (with or without the FallCall Lite App) requires you to have your own cellular connection, as does the Phoenix Watch. Pricing above reflects what the author paid for the extra cellular connection to the Apple Watch, and depends how many total devices your family has among other things.
Smart Watch vs Traditional Medical Alert
An obvious question to ask is "Should you buy one of these rather than a conventional medical alert pendant?"
We think it really depends on your stage of life, degree of fraility, and whether or not you are comfortable wearing a conventional medical alert at all times.
If you care most about being "safe", and don't at all have a problem wearing a conventional "go anywhere" mobile medical alert at all times, then we would recommend doing that, and making a choice from the products discussed in our article on mobile medical alerts.
However, if you are not super concerned about safety but want something "just in case", or if you are not really willing to wear a conventional medical alert when you go out in public and at all times at home, then we think these products are an excellent alternative.
And they are very close to being a better alternative than conventional medical alerts for everyone. If they all had fall detection algorithms, and they had not exhibited the "summoning help every time" issues, and battery life issues, we would be strongly recommending them for everyone. And if the Apple Watch came with the option to add a monitored service, we would be big enthusiasts.
Given the rate technology is improving, we will be surprised if these issues are not addressed quite soon.
Best Medical Alert Watch: Recommendations
We think most of these products are quite good, but that different types of people will strongly prefer one or the other. In this section we explain how to match a specific person type (persona) with "the best product for them".
Let's assume, for all the personas below, that they do feel a strong desire to have the capability to summon help in an emergency, and like the concept of a medical alert.
Persona 1: Apple Fan
I already have an Apple Watch and love it. Why do I need yet another gadget to put on each day?
This one is easy. You already have an Apple Watch, and thus you presumably don't have a problem mastering its relative complexity, reading its small screen, taking care of charging it, and such like factors. And the fact you have the product already suggests you value some of its specific smartwatch features. You may also value the statement made by having this desirable consumer gadget.
The big question for this person is whether they feel a need for a monitored solution, or are happy with the idea that when they call for help it just calls 911. The person also needs to weigh up how important an automatic fall detection algorithm is.
The choices are:
Apple fall monitoring algorithm, but an unmonitored service (calls 911 directly): The Apple Watch, with built-in Emergency SOS App.
OR:
FallCall Detect fall monitoring algorithm, but a monitored service in which the alert can at your choice go either to a professional monitoring service or to members of your care circle: FallCall Lite App (on the Apple Watch).
More Details
See our detailed reviews, and links to the companies' websites:
Persona 2: Smartwatch Features Would be Useful
I really like the idea of having some "smartwatch features" like the weather or step counting. I care about looking stylish. I am not sure I would really wear a conventional medical alert out in public.
But you worry an Apple Watch is just too complex for your tastes. And, you think a relatively bulky smartwatch would be compatible with your personal aesthetic.
In this case we think the WellBe Medical Alert Plus, or the SOS Smartwatch would be good choices. They have some basic smartwatch features (although not weather). They are pretty easy to use. We think they are stylish. And they do not have an overwhelming array of features.
The downside compared to a conventional medical alert is the lack of a fall detection algorithm. But we think it is better to wear a product like this, than to have the "perfect" conventional medical alert that you keep at home in your bedside table because you don't like to wear it.
Just be sure you are OK with the issues discussed in the section on "Charging".
More Details
See our detailed reviews, and links to the companies' websites (plus some discounts available only to Tech-enhanced Life readers):
Persona 3: Care About Style but not Smartwatch Features
I am very reluctant to wear a conventional medical alert at all times, and out in public. But I don't care much about smartwatch features.
For you, there are several options to consider. The right choice among these options will depend on the exact charging scenario that will fit best with your lifestyle; how you feel about having an automatic fall detection algorithm; and weighing up the different issues from the "failure to connect" section.
The Kanega Watch has a number of nice features. It's simple, fairly stylish, and has the significant benefit of including fall detection, and working on WiFi when you are at home. Voice interactions will be a plus for some, but can be ignored if you don't care about that. Just be sure to pay attention to the section above on "Charging" before making a decision, as well as to the section on "Failure to Summon Help".
The products we recommend above for persona 2 are also worth considering (WellBe Medical Alert Plus and Bay Alarm SOS Smartwatch) — especially if the "failure to summon help" issues concern you, and the battery life of these products fits your use case.
Another option could be the Freedom Guardian. However, the model we evaluated is being replaced by Freedom Guardian 2.0 which we have not yet tested.
More Details
See our detailed reviews, and links to the companies' websites (plus some discounts available only to Tech-enhanced Life readers):
Persona 4: Safety Above All
Safety above all. Don't care how it looks. Don't want a smartwatch anyway.
Some people who are shopping for medical alerts care above all that it works flawlessly as a medical alert, and don't care how it looks. They have no problem wearing a conventional medical alert pendant at all times, even if it may sometimes appear bulky, ugly, or stigmatizing.
People who fit this persona often say things like "I am beyond caring about how things look. I want it to keep me safe and that is all that matters."
If a person fits this category, and also has no desire whatsoever to have smartwatch capabilities like step counting, or the weather on their wrist, then in our opinion they are not the right fit for any of these "smartwatch as medical alert" products. Instead they would be best served by a more conventional medical alert.
If they are active and often out and about, then they would likely want something in the product category we call "mobile medical alerts", and this comparative evaluation of mobile medical alerts should help decide on a specific product. 
Buying these Products
At the bottom of this page are links to our "review" page for each of these products, on which are a few more details about our evaluation. Below are also links to the company's websites, where you can acquire the products if you wish.
We have negotiated "discounts" with some of these vendors exclusively for readers of Tech-enhanced Life. See the individual reviews for details and discount codes.
References
(1)  Apple News Release about 911 location capability
(2)  RapidSOS press release on 911 location technology
(3) About the Apple Watch Fall Detection Algorithm
*Disclosure: The research and opinions in this article are those of the author, and may or may not reflect the official views of Tech-enhanced Life.
If you use the links on this website when you buy products we write about, we may earn commissions from qualifying purchases as an Amazon Associate or other affiliate program participant. This does not affect the price you pay. We use the (modest) income to help fund our research.
In some cases, when we evaluate products and services, we ask the vendor to loan us the products we review (so we don't need to buy them). Beyond the above, Tech-enhanced Life has no financial interest in any products or services discussed here, and this article is not sponsored by the vendor or any third party. See How we Fund our Work.
Author